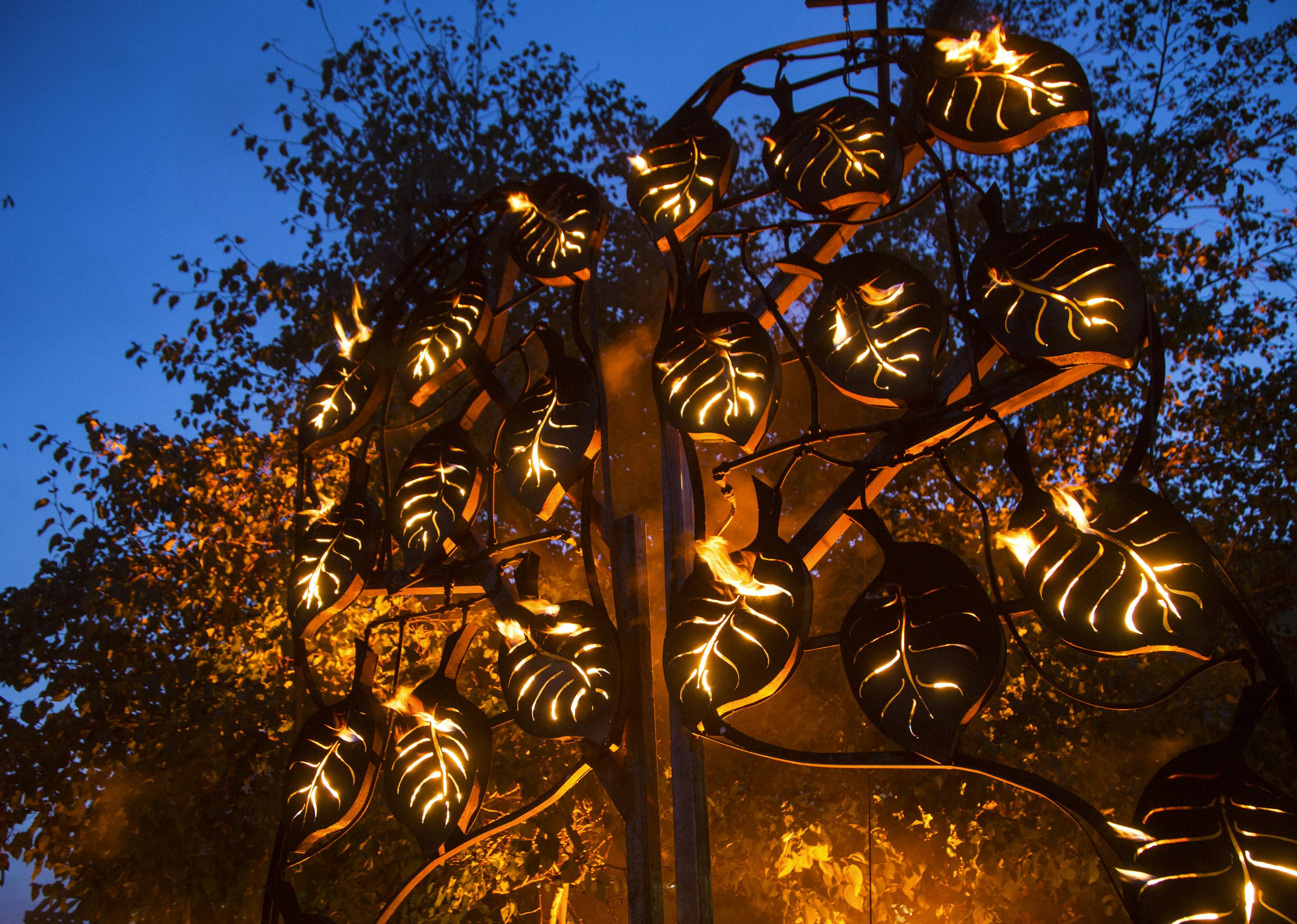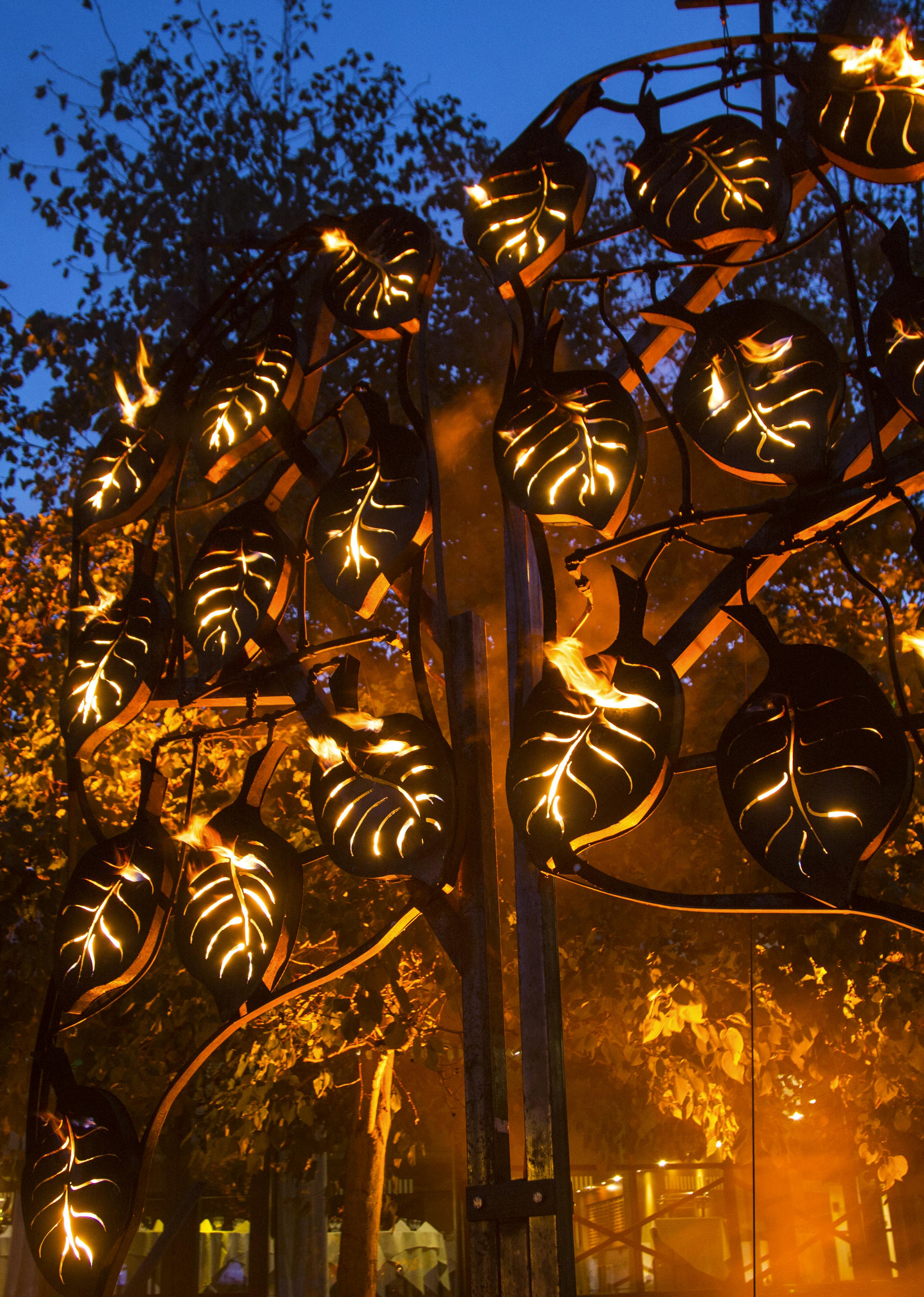 Fire Garden
A spectacular night garden for all seasons – and all locations.
Our Fire Garden is one of our most popular works – an exciting, engaging and site-responsive spectacle that can be adapted to almost any outdoor space.
From our first Fire Garden at Salford Quays in 1999 to more recent installations at the likes of Caernarfon Castle and Dulwich Picture Gallery, the Fire Garden has animated a wide range of UK locations all year round.
Our intricate hand-crafted fire sculptures instantly transform any space into a place of wonder, creating new theatrical possibilities in almost any outdoor space – including those that might ordinarily be overlooked or forgotten. We're now taking inquiries for new Fire Garden installations in locations across the UK.
Walk the Plank insight
Fire Garden Info Pack
You can find out more info on our fiery sculptures here. Share with your colleagues and partners and get in touch with us for a chat.
The power of the Fire Garden is rooted in the way it responds to different settings, from abbeys and cathedrals to parks and stately homes. The audience can explore the Fire Garden by wandering through it or by standing and watching – always close enough to feel the heat.
Each Fire Garden is composed of organic sculptural elements, from blazing begonias to gently burning bulrushes. But because each installation is adapted to suit its location or cultural context, no two Fire Gardens are the same.
Whatever the setting or celebration, we'll work closely with you to tailor the work to your location – using both the physical setting and the theme of your event as inspirations to reimagine the Fire Garden in new and unique ways. We can also work with performers, musicians and/or artists in your area to enhance any theme or narrative. For example:
For Burns an a' That in Ayrshire, a festival celebrating the life and works of Robert Burns, our Victorian-themed Fire Garden helped set the context to wider Burns celebrations.
At Festival No.6 in Portmerion, hundreds of festival-goers enjoyed a gorgeous Fire Garden chill-out space, complete with fiery grottos and a blazing music stage.
For Hull's Freedom Festival, our Fire Garden celebrated Nelson Mandela's contribution to the causes of equality and reconciliation with bespoke etched steel images.
At Dublin Castle, we teamed up with members of Waterford's Spraoi youth theatre to create a dark and mysterious celebration of Bram Stoker's Dracula.
For Barry Island's Isle of Fire, which won a Bronze Award at the National Tourism Awards, we brought a fire procession and a Viking ship to the town's promenade in the height of summer.
And for the Paisley Halloween Festival, we explored the gothic possibilities of the Fire Garden with the addition of dancing gargoyles inspired by nearby Paisley Abbey.
'It's been great working with Walk the Plank – it's something different for the island, a unique evening event.'

Sarah Jones, Events Officer at Vale of Glamorgan Council (Barry Island's Isle of Fire)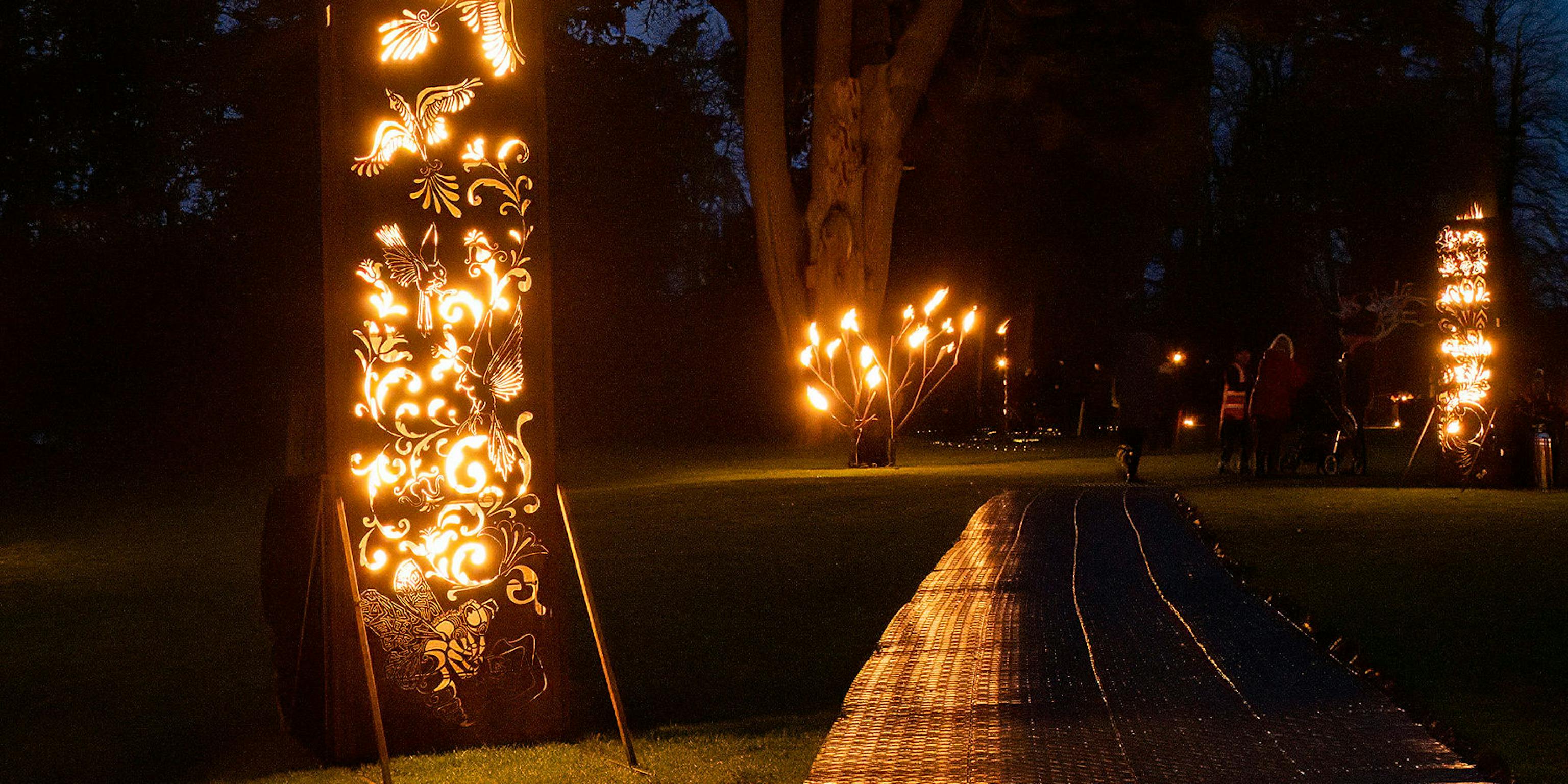 Fire Garden, Compton Verney, 2020, Cliff Armstrong
The Fire Garden has also been seen at:
Brentford Lock, London
Chatsworth House, Derbyshire
Hanley Park, Stoke-on-Trent
Heat the Streets, Blackpool
Larne, County Antrim
Lost Eden at Kendal Calling
Nottingham Castle
St Albans Cathedral
Woodhorn Museum, Ashington
… and many other locations around the UK
'This has given it a whole new dimension: people are seeing it as a beautiful space to be used for recreation purposes rather than just a shortcut! I wasn't expecting it to be quite so beautiful – it's amazing! The sculptures are fabulous.'

Audience member, Hanley Park in Stoke-on-Trent 2014
'It was fantastic to see [Nikolai] Astrup's beloved fire brought to life in such a spectacular fashion right here on our grounds of the Gallery thanks to Walk the Plank. The bespoke designs by Hannelora Johansson were a beautiful tribute to the artist and the whole event, a huge hit with our audiences… the perfect opening to the [Nikolai Astrup] exhibition.'

Ellie Manwell, Head of Audience Development at Dulwich Picture Gallery