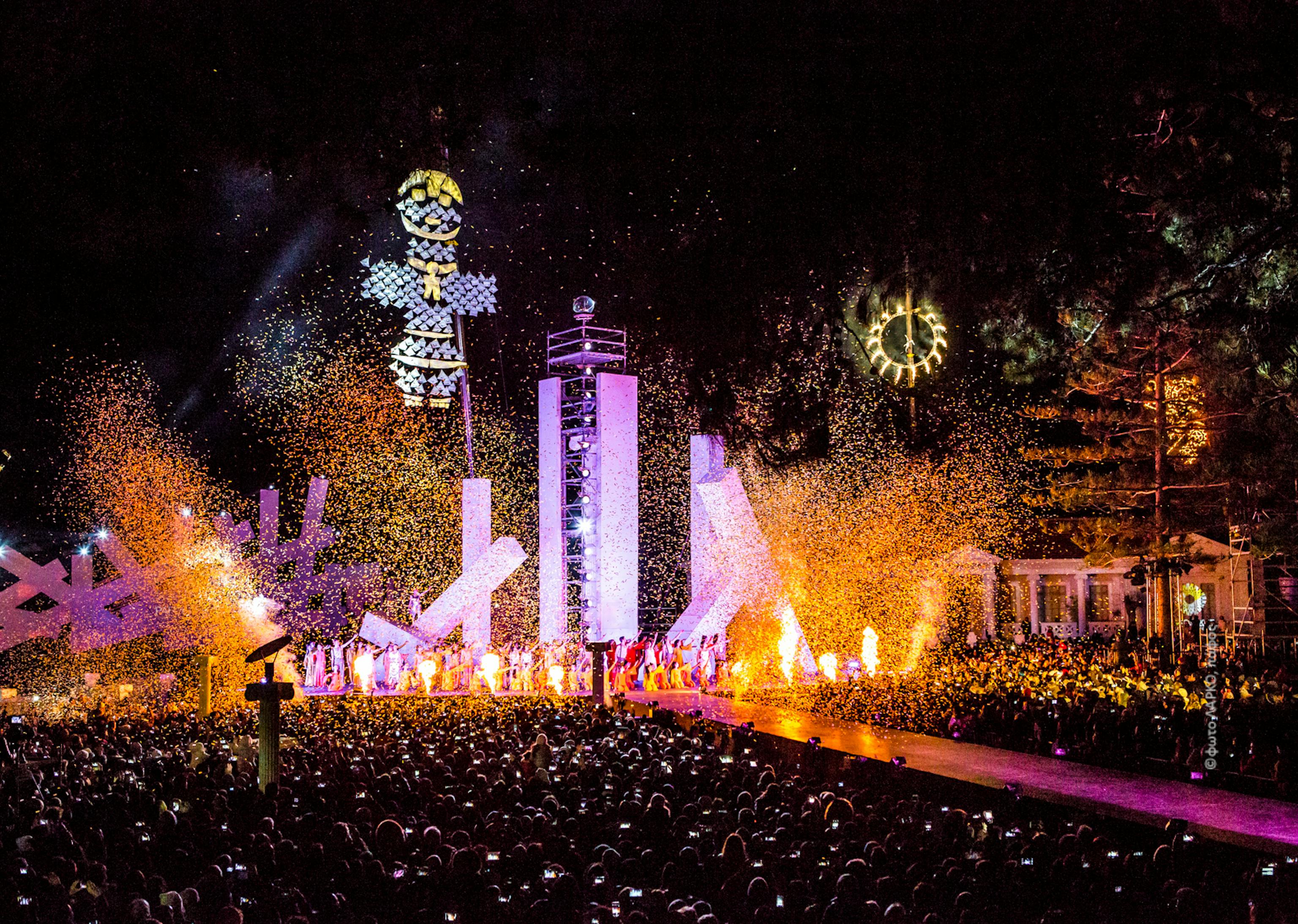 Pafos 2017 European Capital of Culture
Kicking off Pafos 2017 European Capital of Culture
We got Pafos 2017 European Capital of Culture off to an unforgettable start.
We knitted the threads of Pafos's richly diverse history together with its glorious present and future as our Opening Ceremony launched the city's year as European Capital of Culture.
A Work of Art, the title of our Opening Ceremony, was a truly international collaboration. We brought together Cypriot artists such as writer Efi Kyprianidou, composer Christina Athinodorou, designer George Papadopoulos, director Neoclis Neokleous, and video artists Vera Papastavrou and Kyriacos Kousoulides with UK expertise in sound (Melvyn Coote at tube uk), lighting (Stephen Page at dbn Lighting) and aerial performance, pyro and special effects (our own Adam Platten) – all guided by Artistic Director Liz Pugh and Creative Producer John Wassell of Walk the Plank.
The show explored the myth of Pygmalion, as told through beautifully expressive dance to Athinodorou's expansive and expressive musical score. The creative team was further strengthened by Israeli choreographer Ido Tadmor and assistant Jhonathan Yoni Soutchy, who worked for weeks to rehearse the cast of 15 professional dancers and 75 young dancers and gymnasts from Pafos.
We used the motif of Pafos reinvented as an open-air factory to punctuate this story of the artist who tries to bring to life a statue he has carved from ivory. Great cogs of fire appeared in the sky; traditional Cypriot embroidery and mosaics appeared on screens; and young dancers weaved silk flags around Pygmalion and his beloved Galatea. A Turkish Cypriot lullaby sung by Umut Albayrak in harmony with a traditional Greek song sung by Pafos Music Lyceum Choir helped to draw in the 12,000-strong audience.
The international theme extended to Aarhus, the other European Capital of Culture in 2017, with the Aarhus Jazz Orchestra and the Concert Clemens choir joining the Pafos Municipality Band to perform a new composition by Lars Moller. As the music played, 320 local schoolchildren carried lanterns they had each made, led by artist Helen Davies, to be hung on a structure representing the Idol of Pomos, one of many prehistoric statues found around Cyprus. This ancient pagan symbol grew before our eyes as she rose into the sky – alongside the tiny figure of aerialist Fran Widdowson, spinning in a shower of sparks.
'We're really proud to have worked with Pafos 2017 on this incredible collaborative opening ceremony, one that mixes the homegrown talents of Cyprus with international guest artists. We brought people of all ages together to celebrate Cyprus's rich cultural heritage – and in doing so, gave it contemporary relevance and meaning.'

Liz Pugh, Artistic Director, Pafos 2017 Opening Ceremony